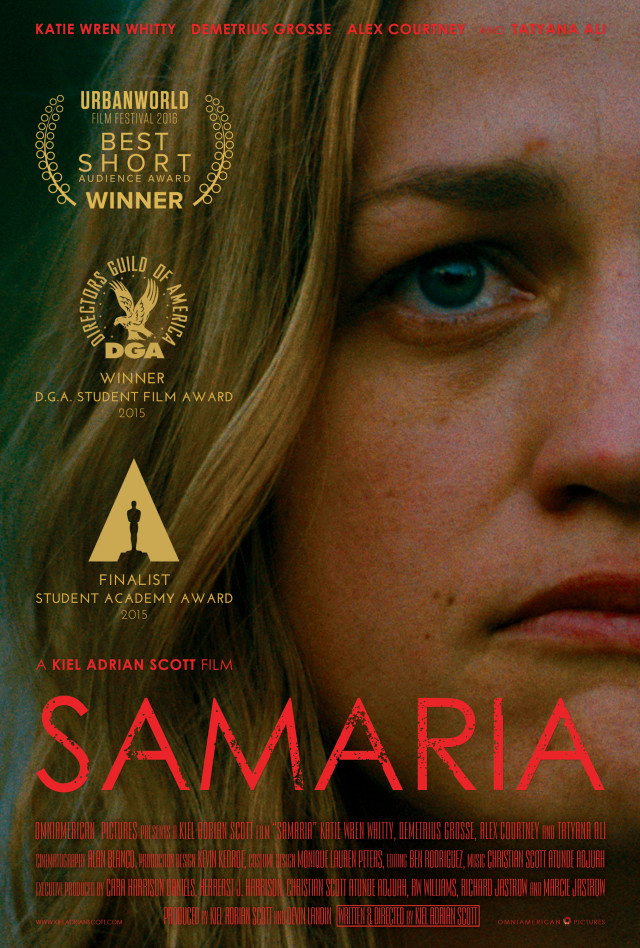 Award-winning writer-director Kiel Adrian Scott returns to the director's chair with Samaria, a short film adaptation of his feature length screenplay Epilogue!!!
SYNOPSIS: In the wake of a devastating hurricane, Rose, a young white-collar worker, works tirelessly to put back together the pieces of her broken life. Having lost everything in the storm, Rose, now homeless, must hide the depths of her poverty from those she works for and her employment from those she lives with, in a daily struggle to survive.
THE FILMMAKERS:
Writer-Director: Kiel Adrian Scott
Starring: Katie Wren Whitty, Demetrius Grosse, Alex Courtney and Tatyana Ali
Producers: Kiel Adrian Scott, Devin Landin
Executive Producers: Cara Harrison Daniels, Herreast Harrison, Christian Scott aTunde Adjuah, RW Williams, Richard Jastrow, Marcie Jastrow
Director of Photography: Alan Blanco
Production Designer: Kevin Kedroe
Costume Designer: Monique Lauren
Composer: Christian Scott aTunde Adjuah
Editor: Ben Rodriguez, Jr.
AWARDS & HONORS:
WINNER – Audience Award for Best Short Film, Urbanworld Film Festival
WINNER – D.G.A. Student Film Award for Outstanding Directorial Achievement (African-American Category), Directors Guild of America
WINNER – Spike Lee Production Award / Fellowship
FINALIST – Best Narrative Student Film, Student Academy Awards, Academy of Motion Picture Arts and Sciences