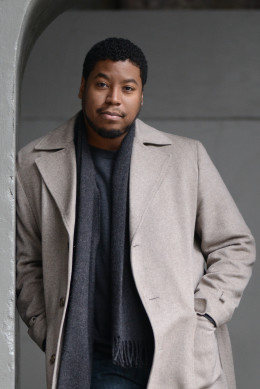 Award-winning writer-director Kiel Adrian Scott's films have screened internationally and aired on HBO, PBS, CineMAX, Shorts TV, Centric and BET. Kiel's short film, The Roe Effect, garnered him high praise and won several major film festivals, including Best Short Film at the American Black Film Festival's HBO Short Film Competition, Best Narrative Short at the Urbanworld Film Festival and the Saatchi & Saatchi NOTHING IS IMPOSSIBLE Producer's Award. The Roe Effect was nominated for Best Independent Mini Feature at the Black Reel Awards and included in Cannes Film Festival's 2010 Short Film Corner. Of the film, Academy Award-winning director Jonathan Demme remarked, "Exquisitely made, fantastic in every single aspect, the themes are profound. Kiel is an incredibly exciting new American filmmaker. Bravo!"
Kiel is an alumnus of The Cooper Union for the Advancement of Science and Art, one of the most highly regarded and selective universities in the United States. Every student awarded admission into The Cooper Union receives a full tuition scholarship. Kiel is also a recent graduate of New York University's Graduate Film Program where he was awarded a full tuition Dean's Fellowship, was a Spike Lee Fellow, and served as Professor Spike Lee's Graduate Teaching Assistant. After completing his academic coursework, Kiel was asked by Lee to serve as his assistant on Lee's professional projects. Kiel collaborated with Lee as a co-writer on Lee's recent feature length film and first foray into video games, NBA 2K16's Livin' Da Dream.
Kiel's personal filmic works are investigations of the psychological ramifications of being undervalued and marginalized in modern society. Addressing issues ranging from homelessness to homophobia, racial animosity to the erosion of women's reproductive rights, Kiel's films are ultimately about the consequences of not caring for others. In addition to pursuing his personal feature film works, Kiel recently participated in Ryan Murphy's HALF Foundation directing mentorship diversity initiative, and is elated at the prospect of writing and directing in television.
Kiel's latest film, Samaria, won a Directors Guild of America Student Film Award for Outstanding Directorial Achievement, the Audience Award for Best Short Film at the Urbanworld Film Festival, and was a finalist in the 2015 Student Academy Awards. Samaria is a short film adaptation of Kiel's feature length screenplay, Epilogue, which was an inaugural selection of the New Orleans Film Festival's A.M.P.A.S. sponsored Emerging Voices Program.
Kiel is currently developing several projects. Among them, a dramatic fiction anthology series exploring the American actuality and the corollary of othering, a social-realism fantasy film franchise, and is slated to direct the dramatic comedy How To Die Happy. How To Die Happy will be Kiel's feature length motion picture debut.
---
Kiel is also a member of New Orleans' first family of arts and culture. He is the identical twin brother of two-time Edison Award-winning and Grammy Award nominated international recording artist, trumpeter, composer, producer and music executive Christian Scott aTunde Adjuah, the nephew of modern jazz innovator, renowned saxophonist Big Chief Donald Harrison, Jr., and the grandson of community leader, activist and 2014 New Orleans Legend Award recipient, Herreast J. Harrison and the late culture bearer and legendary Big Chief Donald Harrison, Sr. The Harrison family was the inspiration for the Lambreaux family of the critically acclaimed HBO series, Treme'. For more information on the Harrison family visit www.guardiansinstitute.org